[phpBB Debug] PHP Warning: in file [ROOT]/includes/session.php on line 1045: Cannot modify header information - headers already sent by (output started at /home/courtrec/public_html/index.php:130)
[phpBB Debug] PHP Warning: in file [ROOT]/includes/session.php on line 1045: Cannot modify header information - headers already sent by (output started at /home/courtrec/public_html/index.php:130)
[phpBB Debug] PHP Warning: in file [ROOT]/includes/session.php on line 1045: Cannot modify header information - headers already sent by (output started at /home/courtrec/public_html/index.php:130)


July 20th, 2017
Takumi signing copies of DGS2 in Tokyo and Osaka
Takumi has been
released from his cage
tweeting again lately as Dai Gyakuten Saiban 2 will be released soon, and today he announced he and producer Eshiro will be signing copies of DGS2 at the following locations/days:
August 3rd (release date): BIC Camera Shinjuku West Store (Tokyo) between 12:00~13:00.
August 4th: Joshin Denki Diskpier Nipponbashi Store (Osaka) between 18:30~19:30.
You'll need to purchase your copy of the game at those stores for it to get signed, obviously (You can buy your game on the 3rd at Joshin Denki to get it signed on the 4th in case you don't want to wait, as long as you keep your receipt to prove you bought it there). So if you happen to be near any of those two cities in two weeks...
Reply || Read Comments
By Ash
July 19th, 2017
Layton's Mystery Journey: Out Now on Mobile!
It's been a solid few years since Hershel Layton took his last case - both in reality and in fiction - but today sees the launch of a new Layton adventure!
Layton's Mystery Journey: Katrielle and the Millionaires' Conspiracy
(formerly Lady Layton) releases today for iOS and Android worldwide, and on 3DS in Japan. (The English 3DS release will be coming this fall.)
For those of you who haven't followed along, LMJ is the full-fledged seventh entry in the Layton series, featuring the puzzle-solving adventure gameplay the series made its name on. The mobile version out today runs about 16-18 USD/EUR/GBP, and lets players enjoy the whole game rather than parcel it into individual episodes. Cosmetic bonuses, like new costumes for Katrielle, are available as in-app purchases.
While the game hasn't gone live in the US at time of posting, it's already available in Japan, Europe, and Australia on iTunes and Google Play. This post will be updated as the game goes live elsewhere! (The game requires Android 4.4 or above, or iOS 9 or above on an iPhone 5S or above.)
Google Play
:
EU
|
US
(not yet live) |
JP
iTunes
:
UK
|
US
|
JP
|
AU
|
DE
|
ES
|
IT
|
NL
|
KR
Want to chat about the game? We've bumped
the Labyrinthia subforum
out from the Defendant's Lobby to serve as a general Layton and Level-5 forum rather than restrict it just to PLvsPW talk.
Happy puzzling!
[Special thanks to NeoGAF user Takoyaki for collecting the Google Play and iTunes links]
Reply || Read Comments
By Bolt Storm
July 12th, 2017
Dai Gyakuten Saiban 2 demo now on the eShop
Got a Japanese 3DS? Then hop onto the eShop for the DGS2 demo! While the majority of it is the same as the web demo, you get to see the pre-trial sequence in the defendant's lobby, as well as a special trailer at the very end. And some nice new music at that!
Reply || Read Comments
By Bolt Storm
July 11th, 2017
DGS2 in Famitsu 7/13: a coroner family and a waxworks case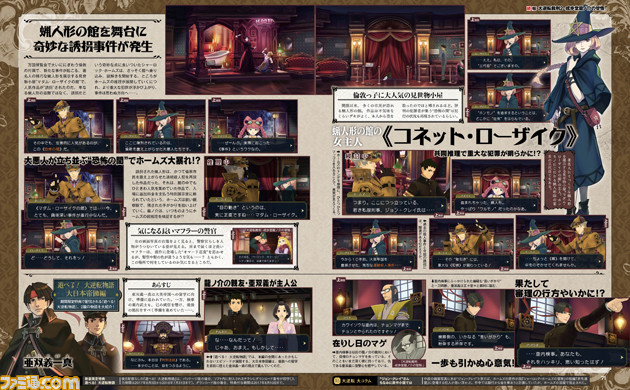 Hot on the heels of last week's trailer, and with the game's release just around the corner, Famitsu has one more scoop on DGS2 that shines a little more light on some of the scenes we saw there!
This week's article
introduces doctors Sithe (left) and Goulloyne (right), a mother-daughter team of coroners who play a part in the legal system's slow march towards forensic science. The magazine also introduces a kidnapping case set in a waxworks museum involving a woman named Connette Rozaic, who winds up as the target of Holmes' latest bout of reasoning; a distinctive long scarf is visible off to one side of a screenshot, suggesting Pat O'Malley may be making an appearance (which the magazine points out). Finally, we get a brief look at Asougi's Asinine Attorney mini-case.
Full scans to come Wednesday as usual!
UPDATE:
Scans:
Per above, the magazine introduces coroners Courtney Sithe and Maria Goulloyne. Sithe is the head coroner of Scotland Yard - a position that was only recently created - and works at the forefront of forensic science with her daughter Maria; Ryuunosuke meets them when the case he's investigating calls for more detailed investigation, including fingerprint work. Though Sithe can seem blunt, she also makes it clear that she sees her job as her own way of fighting criminals.
Next, the magazine introduces a waxworks "kidnapping" case. In a somewhat off-the-beaten-path corner of the World's Fair, a waxworks museum has been erected, featuring the works of the Rozaic family. Unfortunately, one of the major figures from the museum's House of Horrors, which collects London's major criminals, has gone missing - and Holmes is intrigued by Rozaic referring to it as a "kidnapping". It's not long after he gets there that another bout of Joint Reasoning crops up. Later, at the trial, Rozaic testifies that the criminal was using the theft to demand a virtual fortune for the figure's safe return. She also notes that the wax figures of the museum are created by taking a cast of the person's face directly
Lastly, we're given brief introductions to the pre-order bonus Asinine Attorney mini-cases. In the first, Asougi takes on a special trial as part of his preparations for studying abroad, going up against a still-angry Payne; in the second, Holmes takes to the defense bench when Iris is arrested, with Ryuunosuke as his 'assistant'.
Reply || Read Comments
By Bolt Storm
July 7th, 2017
Dai Gyakuten Saiban 2 - Launch Trailer
"Never forget - even a Great Detective tells lies..."
https://www.youtube.com/watch?v=U6oclCrPyNo
Subs will be added later tonight. (Or if anyone wants to translate now, I won't be able to add them for a few hours, so...

)
If you want to go in blind, this is probably a good time to dive, since the trailer hits at least four of the cases.
Reply || Read Comments
By Bolt Storm
June 30th, 2017
June 30th, 2017
DGS2: Final DGS1 recap, and LE skit CD sample/jacket
Another week, another batch of DGS2 promotional news!
First off, the conclusion of the DGS1 recap series, which (briefly) revisits DGS1-4 but is more interested in answering once and for all who brained Ryuunosuke with that fire extinguisher
!
On top of that, Capcom has revealed the jacket art for the DGS2 LE's pack-in CD - a reading of Soseki's "London Tower" by the main cast with brief skits before and after. In addition to that pretty wonderful art,
Capcom put up a sample of the CD
, which is
absolutely
worth a listen even if you don't speak Japanese, if only for the spectacle of Ryuunosuke leading the group in a rousing chorus of "London Bridge is Falling Down" - in English.
Reply || Read Comments
By Bolt Storm
June 24th, 2017
About Capcom and the DGS YouTube Translation
As many of you have probably heard by now, Capcom has pulled down the YouTube-based translation of
Dai Gyakuten Saiban
.
One of the project leads posted a statement on Reddit, which you should read in full, but here's the part that's probably relevant to most users
:
Quote:
So what can we do? Well, the translation is not lost. Our footage is gone, but the subtitles themselves still exist in our Google Docs. So what's next for DGS and DGS 2? Well, most likely we will be taking DGS related content to a different platform. What platform? We don't know yet. For now, I know I am going to sit down and figure something out. Over time, I have gotten a new computer and failed to back up the original files. So what do I have on hand?The episodes from Randst Magazine are still on my hard drive, so that's step one.

[...]

EDIT: I have filed a counter notification against Capcom, so possibly something will come about from this. It falls under fair use and educational use. On the other side, we do have a back up, thanks to someone on Discord. This contains all of our video (albeit in 360p) and our subtitles. Assuming, nothing occurs regarding our counter notification, we will release these videos on an alternate viewing platform.

It is unsure whether or not this was accidental. There are several other channels, from Japan, that have uploaded full commentated let's plays of Dai Gyakuten Saiban. Along with the few from the US. I am not instigating a witch hunt, but rather showing that Capcom specifically targeted our channel.
So if you've been following along with the YouTube translation, all is not lost.
But more importantly, I wanted to put a little cold water on one of the common responses I've been seeing to this, namely that "this is a sign Capcom is working on a DGS localization." To be clear, I can't prove that's
not
what's happening. But I do want to set expectations.
Capcom is no stranger to pulling down Japanese Ace Attorney videos. Back in the day (because I'm an old person now) I would upload highlights from AAI and AAI2 after they were released in Japan. As of AAI2, Capcom filed copyright strikes against those, eventually pulling down my YouTube channel altogether. When I moved to other platforms (Vimeo, Twitch) for AA5 and DGS, they yanked those too. All of which is to say,
Capcom pulling down Japanese AA videos is not out of the ordinary
.
I've also seen many people pointing out that because DGS1+2 is being made, that may be to help with bringing the series west. Putting aside the cost of translating two games together and then figuring out how to sell them at a price point that won't drive away Western users, there's the fact that this bundle explicitly
isn't
a special combination of the games. It's a slipcase for the DGS1 and DGS2 boxes along with a special CD. (The DGS1 box being packaged is even the price-cut "Best Price!" edition.) The games are still on separate cartridges entirely.
Finally, while there's been no specific official reason that DGS1 was never translated (beyond Janet Hsu saying there were "certain circumstances"), there are at least two large
possible
reasons: first, that these games have relatively high localization costs due to the amount of text as well as relatively low sales in the West, and second, that the rights for some of the Sherlock Holmes stories are still in limbo in the US, with two competing groups claiming ownership. While DGS doesn't particularly draw from these stories, it's not difficult to imagine a claim being made regardless, resulting in a legal battle that could become very costly very quickly. As far as we know, neither of these things have changed.
I dearly hope all of the above was wrong, and Capcom is working on an official localization of the series! But before that rumor gets out of hand, I wanted to remind people where the games stand. We offer our sympathies to the YouTube team and wish them the best in finding a new hosting platform or getting their videos returned.
There is also the ongoing fan translation effort on GBATemp, which will require homebrew to play but will allow players to experience the game for their 3DS
.
The DGS series is a breath of fresh air for Ace Attorney, and we maintain that it's truly disappointing that English-speaking fans don't get to experience it. Hopefully, that'll soon change one way or the other.
Reply || Read Comments
By Bolt Storm
June 23rd, 2017
June 22nd, 2017
Special Court Seminar report by Inside (+ translation)
On June 4, Eshiro and Takumi held a "Special Court Seminar" on the Ace Attorney series at the Akihabara location of Human Academy (more are scheduled for July and August at other locations across Japan). The topics discussed included how the first game conceived, how Dai Gyakuten Saiban was conceived as an extra pillar to the series, how development on Dai Gyakuten Saiban 2 is going, and interestingly enough, even a bit on the overseas localized releases of the series.
Inside has posted a two-part report on the seminar, available
here
and
here
.
Full translations of both artices are available on Gyakuten Saiban Library (
Part 1
and
Part 2
). There are no game spoilers by the way, just heaps of praise for Janet Hsu's work!
Reply || Read Comments
By Ash