December 6th, 2016
Apollo Justice: Ace Attorney now available on Android
Well, it's not particularly clear if this was on purpose for the English release (which was slated for Thursday last we heard), but
Apollo Justice: Ace Attorney is now available on Google Play
worldwide!
Interestingly, this version of the game is USD $15.99 up front from the get-go for the whole game, unlike the iOS version which was USD $0.99 for the first half of case 1 and had the rest of the game a la carte.
[
The Court-Records Original Character Contest 2016 is here!
]
Reply || Read Comments
By Bolt Storm
December 3rd, 2016
Ult. Marvel vs. Capcom 3 coming to PS4/XO/PC; new MvC too
This isn't 100% whole-wheat organic-fed Ace Attorney news, but it is news of a sort: Capcom today announced that
Ultimate Marvel vs. Capcom 3
, which features a certain spiky-haired lawyer as a playable fighter,
will be coming to PS4 today, and to the Xbox One and PC in March 2017
. The game was previously de-listed from digital storefronts due to rights issues.
In addition, a new entry in the series,
Marvel vs. Capcom Infinite
, was announced for a 2017 release. While there's no sign of any
Ace Attorney
representation yet, we'll keep our eyes peeled!
[
The Court-Records Original Character Contest 2016 is here!
]
Reply || Read Comments
By Bolt Storm
November 30th, 2016
The Court-Records Original Character Contest 2016 is here!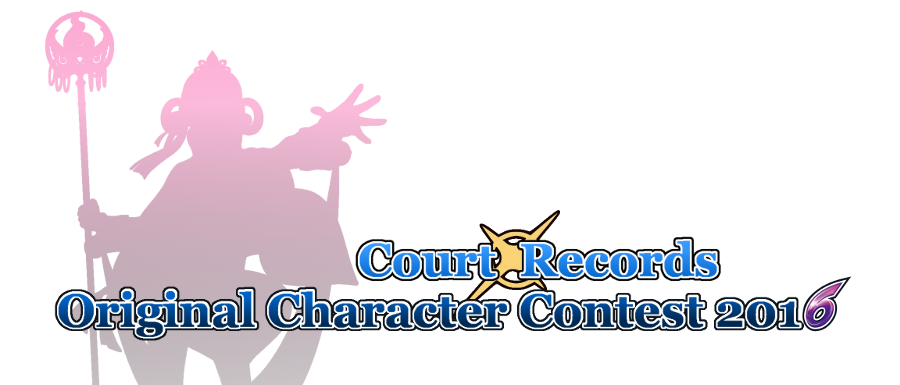 It's... even later than normal this year (maybe end-of-year is becoming the new mid-year?) but the Court-Records Original Character Contest is back! Not familiar with it? The idea's simple:
come up with Ace Attorney fan characters and you could win some serious AA swag
! (Not to mention some internet bragging points.)
This year we're going back to basics... and also to Khura'in! To celebrate
Spirit of Justice
, we're asking participants to come up with an original Ace Attorney character that would fit in the world of SOJ, be that back home in Japanifornia or abroad in Khura'in.
Submit your character
(via a representative fanfic, pieces of fanart, or sprites), and it'll be up for voting against your fellow AA fans.
What's up for grabs? The AA6 artbook, the Phoenix/Apollo selection OSTs, and a nice AA6 3DS carrying case - plus, as always, attorney's pins from Fangamer. See the
prizes section of the contest page
for details.
Ready to give this a shot? Then
head over to the contest page and read over the guidelines!
This year you'll have until
January 15th, 2017
to get your entries in. Note that as we prepare to move to
our new site
, we're changing the submission process this year, and you'll be submitting your entries directly onto the beta site.
Any questions can either be posted in this topic or sent to us directly at courtrecord [at] gmail [dot] com.
Best of luck, everyone!
Reply || Read Comments
By Bolt Storm
November 30th, 2016
Apollo Justice: Ace Attorney HD now available on US iTunes
It's been darn near a decade since Apollo stepped into court, so we're well overdue to revisit those halcyon days - and now you can do it in HD!
Apollo Justice: Ace Attorney is now available on iTunes in the US!
This HD remaster of the game will put you back $0.99 for the first half of episode one, with the remainder of the game available a-la-carte. (We'll add full pricing once it's known.)
Happy perceiving!
[
The Court-Records Original Character Contest 2016 is here!
]
Update:
Official English trailer
.
Reply || Read Comments
By Bolt Storm
November 30th, 2016
November 29th, 2016
Interview Takumi & writer Madoy (mystery fiction, AA)
Serialization of a brand-new Ace Attorney story titled
Jikanryokosha no Gyakuten
(Turnabout of the Time Traveler) will start in the March 2017 issue of Hayakawa's Mystery Magazine, so the current issue (January 2017) features a special interview with Shu Takumi and Van Madoy, the writer of the story. The two talk about how mystery fiction formed the starting point of the Ace Attorney series, about Ace Attorney growing into a media franchise, the influence of the Ace Attorney series in Madoy's books, and of course, a bit about the upcoming story (now I think about it, I think this is the first interview with Takumi since DGS2's announcement?)
A full translation of the interview is available at Gyakuten Saiban Library
.
Reply || Read Comments
By Ash
November 23rd, 2016
A whole bunch of new AA4HD screens
You know what could liven up this Wednesday evening? Some new AA4 HD screens!
Capcom Japan sent out a whole new batch of screens to sites like Famitsu and 4Gamer to promote the upcoming release of AA4 on mobile. While no date is set for Japan, the game will be released December 1st (iOS) and December 8th (AND) in America (and other English-speaking countries?)
Screens in a spoiler box so as not to blow up the page, but you can see the Gavins, Trucy, the new investigation UI, perceive, and even a snazzy new save screen! Gameplay looks to be much the same, though the articles say there will now be an auto-save function as well.
Reply || Read Comments
By Bolt Storm
November 21st, 2016
November 20th, 2016
First footage of AA4HD - with an asterisk
So, a few days Capcom Mobile
put up a small trailer of AA4 for mobile
on their YouTube channel. Except... the video is now set to unlisted. And it looks like there's good reason for that.
You'll probably notice that the video is running at a pretty abysmal framerate. Before the torches and pitchforks come out, it's worth noting that this poor framerate seems to be an artifact
of the video
, not of the game - watch the transitions between disparate scenes (like from Eldoon to the Gavinners' dressing room) and you'll see those are choppy as well. It seems like this video was rendered at a lower FPS than it was supposed to be, which may be part of the reason it's unlisted.
Still, it gets us another look at the game's visuals. Here's hoping this is a video issue after all and the next official footage drop is running smoother!
Thanks to @hoso_boso on Twitter for the heads-up.
Reply || Read Comments
By Bolt Storm
November 18th, 2016
Interview producers AA and Danganronpa
Slow time for AA news, I'm afraid, and this isn't really news, but I think a lot of people might find this interesting
Dengeki Online
posted an interview with producer Eshiro (Ace Attorney) and Terasawa (Danganronpa) yesterday. The two talk about... a lot. How they met, what they think of each other series, views on not just the games, but the whole franchise, about fandom....
I posted a complete translation here for those curious
.
Reply || Read Comments
By Ash