October 26th, 2016
Ace Attorney Best Selection CDs coming in January
Need some more Ace Attorney music merch in your life? You're in luck - Capcom's releasing 2 CDs of AA music in January to celebrate Phoenix and Apollo's stories.
The tracks are not remixed
- the original trilogy music comes from the Gyakuten Saiban Sound Box, and the music from AA4-AA6 is taken from those games. However, there are two TBD bonus tracks!
Spoiler: Phoenix CD tracklist
Spoiler: Apollo CD tracklist
Reply || Read Comments
By Bolt Storm
October 11th, 2016
Apollo Justice: Ace Attorney coming to mobile
Well,
the official blog post announcing it seems to have been hastily retracted
, but the evidence is clear as day: Apollo Justice is coming to Android and iOS this winter!
You can
pre-register
to get the game first now.
Update:
Officially announced
in both America and Japan.
Spoiler: First screenshots
Reply || Read Comments
By Bolt Storm
October 11th, 2016
Happy 15th anniversary, Ace Attorney!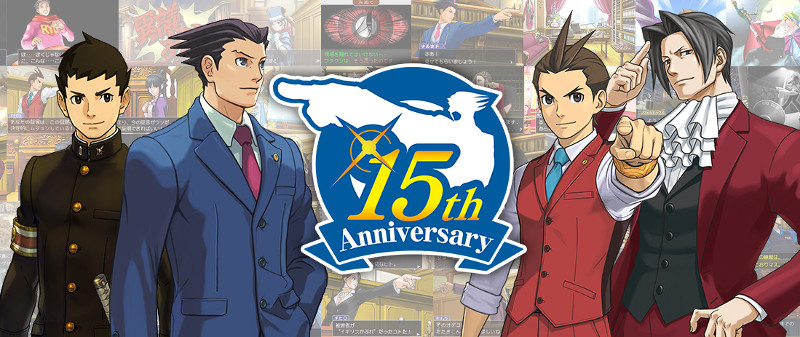 It's past midnight now in Japan, so October 12th, and that means that it's exactly fifteen years ago that the original Game Boy Advance version of Ace Attorney was released!
The official AA 15th anniversary site
has updated with
celebratory notes from Japanese mystery writers
and people connected to the series, as well
as an overview of the series history thus far
.
(Staff note: sorry for hijacking your post, Ash!)
Reply || Read Comments
By Ash
October 8th, 2016
The Court-Records Discord is open!
Howdy! Times are changing, and that means we need to change with them. Or put another way:
we're opening a Discord server!
If you aren't familiar with Discord, it's a chat service that marries some of the best aspects of Skype and IRC: permanent user IDs with changeable nicknames, great support for groups and sub-channels, and an interface that's available just about anywhere, give or take Windows Phone.
The goal is to have a more laid-back, active community than the message boards. That said, most of the rules of C-R itself still apply, primarily that 1. you should treat other users with respect and 2. chatroom or no, try to keep the conversations from devolving into pure spam. NSFW content is still a no-go, as are spoilers outside of designated channels. Check out the #announcements channel for more detail.
Have fun!
Reply || Read Comments
By Bolt Storm
September 29th, 2016
September 17th, 2016
New story: Turnabout of the Time Traveller.
As announced at TGS, mystery writer Van Madoy will write an all-original Ace Attorney story,
Gyakuten Saiban - Jikan Ryokosha no Gyakuten
(Ace Attorney - Turnabout of the Time Traveller) to be serialized in Hayakawa's Mystery Magazine, starting in the March 2017 issue (goes on sale in January 2017). A special interview between him and Takumi will be published in the January 2017 issue (goes on sale November 2016).
He also left a comment on the official site:
Quote:
Hello, I'm Van Madoy. I will be writing a novelization of Ace Attorney. In terms of chronology, this story is set during the first game, but it is an original story and because it's such a special ocassion, I hope the readers will enjoy this slightly different idea. Please look forward to Turnabout of the Time Traveller.

On his Twitter account
, Madoy mentions that timewise, it's like an Episode 2.5 of the first game, so very early in the series.
Van Madoy debuted with
Marutamachi Revoir
, a young adult mystery novel and the first in the Revoir series which is about... a private trial in the city of Kyoto. Besides writing his own original mystery stories, he has also started doing novelizations as of late.
Reply || Read Comments
By Ash
September 17th, 2016
September 17th, 2016
Dai Gyakuten Saiban 2 announced
"This time - all the mysteries will be brought to light."
Details to come.
First trailer:
https://www.youtube.com/watch?v=Ot6tidI8NNo
Reply || Read Comments
By Bolt Storm
September 16th, 2016
15th ann. stage show at TGS is tonight/today (9/16 or 9/17)
Hey there! Just a reminder that
the special Ace Attorney 15th anniversary stage show
at TGS is in less than 24 hours from the time of this post, at 15:00 JST on Saturday, September 17th!
This translates to 11 PM PT (on Friday the 16th), 2 AM ET, 6 AM UTC, and 8 AM CEST.
We will be livestreaming and translating the important bits on
CyTube
, so stop on by and chat with other AA fans!
Reply || Read Comments
By Bolt Storm
September 9th, 2016
Spirit of Justice site updates round 1: characters
I'm going to be very honest: it's late and I'm tired so let's make this quick.
Character profiles for Spirit of Justice are up
, featuring profile images, localized names, and info/background on every character in the game.
Note that if you don't want to see the cast of characters, you shouldn't click that link.
Otherwise, spoilers are tagged on each profile. Note that this includes info on the DLC characters (again, including localized names.)
You'll likely notice some small errors here or there, both content and display-wise. Those will hopefully be fixed soon. If you see any really egregious errors point them out below.
Enjoy!
Reply || Read Comments
By Bolt Storm