August 24th, 2016
UP: AA6 demo/prologue out now, Japanese artbook released
Quick update for two pieces of AA6 news, for two different regions!
First of all, the eShop page for
Spirit of Justice
is open, as well
as the official Nintendo sub-site for it
. The English demo for the game is slated to release tomorrow, and there's been no indication that's changing.
Second, the
Spirit of Justice
artbook was released in Japan today! As per usual, it features a wide range of development assets from the game, from official character art to concept sketches to in-game UI elements and event cuts. You can purchase it on
Amazon.co.jp
or other import sites.
Only a few weeks to go until
Spirit of Justice
in English! And hey, TGS is just around the corner too...
Update:
The demo is now live on the NA and EU eShops! In addition, the
prologue anime
for the game has been dubbed and released!
Reply || Read Comments
By Bolt Storm
August 17th, 2016
August 16th, 2016
August 12th, 2016
August 12th, 2016
Court-Records is looking for researchers!
Do you have a knack for tracking down details? Do you want to get a better handle on all the various AA games, merch, manga, etc. that's been released over the years? Are you up for seeking out interviews, articles, and reviews about the series in English or Japanese? We could use your help!
As Court-Records moves into its next stage, one of the areas we're looking to bolster is our coverage of non-game AA stuff, be that merchandise, spinoff media, or even news articles or interviews about the games. To that end, we need some help: people who can track down information about AA in its myriad forms, not just core information about the games. This (along with a bevy of other work!) is going to help us convert the site's current ad-hoc, based-off-a-2006-model-for-fansites form into something where you can actually find information about the games without having to spin a roulette wheel.
Now, that's a pretty wide ask, so to be clear: we wouldn't be asking people to go and collect the entirety of the history of Ace Attorney on their own. Instead we'd like people to find an area they can work in well; if you're a comics/manga buff, you're probably a good choice to enumerate/track down the chapters and ISBNs of the various AA mangas from over the years, while if you speak Japanese and have interest in interviews and the like, you're probably going to be better at pulling up Famitsu catalogs to look for coverage there.
If this sounds like an area you're interested in, drop us a line at courtrecord (at) gmail (dot) com. (And like every time we post that address - just courtrecord, no 's' at the end!) And if you have any questions, leave them in the topic!
Reply || Read Comments
By Bolt Storm
August 11th, 2016
Ace Attorney: Spirit of Justice releasing Sept. 8th in US/EU
For a few months now the only word we've gotten on AA6's release date is "September", and now September is just around the corner... so it was about time for an update, eh?
Capcom
confirmed today
that
Spirit of Justice
will be released September 8th in America and the EU, with an eShop demo available on August 25th.
A new trailer
was also released showing off the characters' abilities - and to round out the news, we got a few new names! Mimi Nanano is now
Bonny de Famme
, Mr. Menyou is now
Mr. Reus
, and while we don't have a full name yet, Saara Aatam's got "Beh'leeb" somewhere in there.
Reply || Read Comments
By Bolt Storm
August 11th, 2016
Ace Attorney anime finished after current cour for now
We already knew that Takumi said that the Ace Attorney anime was originally scheduled for a half-year run, as he mentioned that just before the series started. While we don't know if the series met expectations in terms of viewership for YTV and Capcom, but we do now know that the Ace Attorney anime will not be extended at any rate after the current cour (presumably late September), as
Time Bokan 24
is now confirmed to take over the time slot in October. So no Trials & Tribulations for the mokent.
Whether Ace Attorney will return in the future is not known yet. It would depend on whether the show did well enough for YTV. Kindaichi R also took a season break on the same slot, but that show was definitely popular enough for that (and it had synergy with Conan, that starts at 18:00). In terms of viewership, it did consequently worse than the series that ran before it on the same time slot, but I have no idea whether that's good enough for YTV or not. Sales of the home release might help, though in general, it's of lesser importance for that particular time slot (the succes stories of anime getting new seasons because of sales are usually about late-night anime, not super-popular daytime slots).
(And another note: huh, they're doing another Time Bokan X Detective Conan hour? That's what they did back in 2009/2010, with the Yatterman/Conan hour... I bet it's producer Suwacchi's idea again)
Reply || Read Comments
By Ash
August 4th, 2016
The Future of AA (Gyakuten Ts?shin Interview)
In the last part of the four-part interview with AA6's development staff (
Translation here
), posted today on Gyakuten Ts?shin, there is a section where the staff members are asked to ask each other questions, and series producer Eshiro had a nice one: whether they would want to work on a new Ace Attorney game, in any form? Some answers are quite surprising, like a suggestion for a VR-Ace Attorney, or even an action game, but especially art director Fuse's suggestion of doing basically a reboot appears to be one the might be considering. It appears that AA6 was also made so they could go forward with the current series, but also so it could open the door for other directions.
If you read the interview, you'll notice that Yamazaki has also been transfered to work in Tokyo now, and Fuse was praised in an earlier part as doing very good as the co-director this time, and Eshiro even suggested Fuse could do a title as a director solo, so I think it's definitely not something we should just wave away as daydreaming.
People interested in a reboot? A VR-Ace Attorney? An action Ace Attorney? :D
Reply || Read Comments
By Ash
August 3rd, 2016
The First Turnabout
Okay, so this is more trivia than a news piece. But hey, when else are we gonna get to make this post?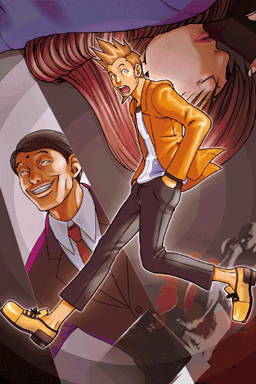 Today, August 3rd, 2016, marks the in-universe date of the very first
Ace Attorney
case, PW:AA's "The First Turnabout"!
It's a little surreal to think that when the case was written, 2016 was seen as far-off enough to get away with setting the world's worst/best legal system in it... and yet here we are.
(Now what's really going to be weird is when Apollo's first case rolls around...)
Reply || Read Comments
By Bolt Storm
July 28th, 2016
Ace Attorney Manga in October (based on anime)
A manga based on the Ace Attorney anime has been running since the May 2016 issue of VJump and
the first volume is scheduled to release in October
. I haven't read it myself, but from what I heard it's simply an adaptation of the TV series (and not something original like the Kuroda/Maekawa manga).
Reply || Read Comments
By Ash