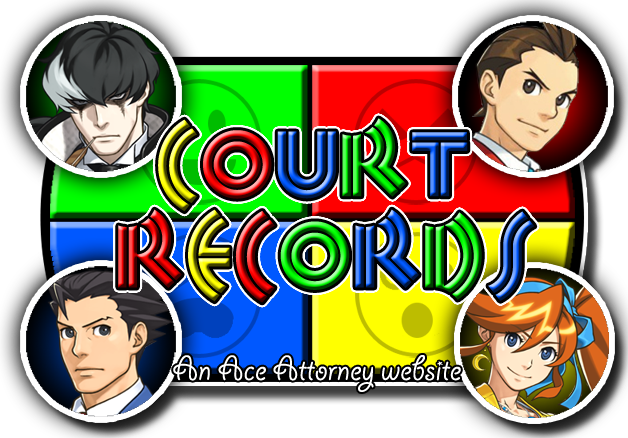 October 6th, 2015
Project X Zone 2 updates: Edgeworth as NPC, demo soon
Remember a few months back when Phoenix and Maya were announced to be playing a role in Capcom/Namco/Sega/(now Nintendo)'s crossover SRPG-fest,
Project X Zone 2
? Well, it seems they won't be the only
Ace Attorney
characters making an appearance. This week's issue of Famitsu reveals that Miles Edgeworth will appear as an NPC. Full scans aren't available yet, but you can catch a blurry Edgey hanging out in the
official preview
.
This week is a big one in general for PxZ2, since a new trailer is slated to debut, and the game's Japanese demo goes live on October 9th. The game itself is slated for a November 12th release in Japan, a February 16th release in America, and a February 19th release in Europe.
Update:
Official art and screens are
now available
!
Reply || Read Comments
By Bolt Storm
September 18th, 2015
Ace Attorney 6 live stage show at TGS - Apollo, demo footage
The
AA6
stage show at TGS is scheduled to start at 11:40 JST on Capcom's livestream. Tune in for a look at gameplay footage, an introduction of the game, and maybe more...?
https://www.youtube.com/watch?v=Uv1sfDlYKWk
We'll update this post with details after it airs.
Update:
Apollo is in the game!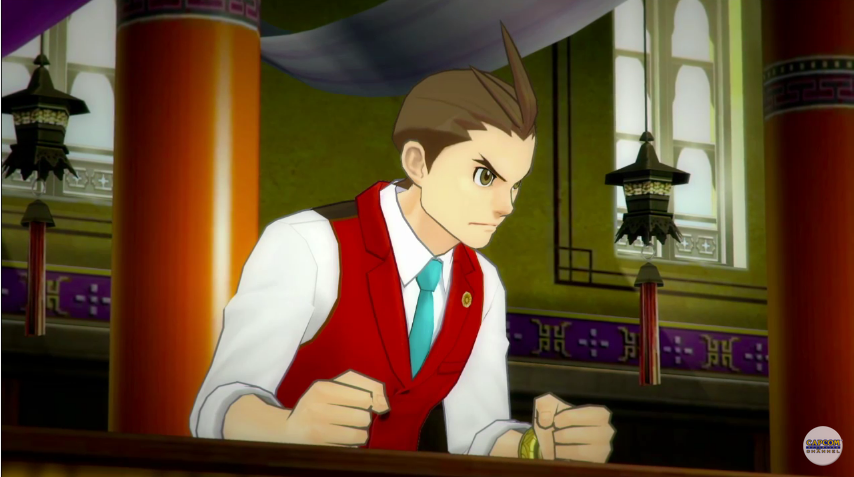 Update 2:
It's over! You can see
the extended trailer here
, or
the full stage show here
.
A quick summary: Apollo was confirmed to appear in the game in an extended trailer, saying "I'm fine! Even if Mr. Wright's not here, I can fight! I have to win... even if
that person
is my opponent...!" As he said the final line, this teaser image was shown:
Afterwards, Eshiro and Yamazaki reviewed the basics of the game, reintroducing Phoenix, Bokuto, and Leifa. They then moved on to some gameplay footage, showing Phoenix interrupting Bokuto's trial (much to the dismay of Gaspen Payne, who's prosecuting.)
Bokuto is accused of killing a treasure guard, Mima Waruhito ("????" -> "Patrolling Person".) After a short cross-examination, the scene shifted to the Spirit Vision system:
In it, players are shown a vision of the victim's last moments, with what they felt/heard/smelled superimposed over a video of what they saw. Players then select one of Leifa's assertions and look for contradictions, moving through the video as needed. The bottom screen lets the players select between various points in the video so they don't have to rewind/fast forward through everything.
They then showed Leifa performing a ceremonial dance to carry out her channeling (this was presumably out of order from the gameplay segment.)
Finally, they wrapped up with a run-through of upcoming AA stuff, giving us a clean look at the anime shot:
And that's all! For us livestreamers, anyway - those actually present got to see the traditional Special Court skit.
[
The Court-Records 2015 OC Contest is now running. Come win stuff!
]
Reply || Read Comments
By Bolt Storm
September 17th, 2015
September 16th, 2015
Ace Attorney Anime coming April 2016!
https://twitter.com/nindori/status/644358531399876608
It seems that from April 2016 an Ace Attorney anime will begin broadcasting in Japan!

Staff note:
The official JP AA Twitter
confirms it
. More details in the coming months!
[
The Court-Records 2015 OC Contest is now running. Come win stuff!
]
Reply || Read Comments
By SuperAj3
September 16th, 2015
September 13th, 2015
The Court-Records 2015 OC Contest is here!

It may be a bit later than normal this year, but the Court-Records Original Character Contest is back! Not familiar with it? The idea's simple:
come up with Ace Attorney fan characters and you could win some serious AA swag
! (Not to mention some internet bragging points.)
This year, we're celebrating
Dai Gyakuten Saiban
, and so the theme is
Victorian London and Meiji Japan
- create an
Ace Attorney
OC that would fit one of those settings. These characters must be depicted in the form of a fanwork, in one of four categories: fanart, fanfiction, spriting, and - for the first time - 3D models! The four categories will be judged entirely separate from each other, and after a round of private judging, the finalists will be voted on by the public.
What's up for grabs? Well, a whole bunch of DGS, AAI, and AA5 swag, plus - for first-place winners - their character immortalized in a piece by Eisner Award-winning artist (and former C-R contest winner)
Nina Matsumoto
! Check out the prizes section of the contest page for details.
For the full rules and details, check out the
contest page
! At present, entries will be accepted until
November 15th
.
When you're ready to enter, we have entry topics set up for
Fanfiction
,
Fanart
,
Sprites
, and
Models
.
And finally, if you're an AA fan and would rather help out than enter yourself, we're still looking for a few judges! Please get in contact via e-mail or PM if you're interested. Any questions can either be posted in this topic or e-mailed to us at
courtrecord@gmail.com
.
Good luck, everyone!
Reply || Read Comments
By Bolt Storm
September 9th, 2015
September 6th, 2015
September 3rd, 2015
September 3rd, 2015
Takumi: "Looking forward to Ryuu's next adventure"
While the news of the day is mostly AA6-focused, today was also the final DGS DLC. As part of that, Takumi provided a special message for the players:
"London, at the turn of the 20th century...
I hope you enjoyed your great turnabout voyage.
The team is looking forward to the day we can meet you again in Ryuunosuke's next adventure."
While this isn't quite enough to say we got two AA sequel announcements in 48 hours - after all, this was written before the game went on sale - it is pretty close!
But until that day comes, Takumi leaves us with this:
Reply || Read Comments
By Bolt Storm