CR is currently undergoing a server move. Parts of the site may be broken during this time!

[phpBB Debug] PHP Warning: in file [ROOT]/includes/session.php on line 1045: Cannot modify header information - headers already sent by (output started at /home/courtrec/public_html/index.php:130)
[phpBB Debug] PHP Warning: in file [ROOT]/includes/session.php on line 1045: Cannot modify header information - headers already sent by (output started at /home/courtrec/public_html/index.php:130)
[phpBB Debug] PHP Warning: in file [ROOT]/includes/session.php on line 1045: Cannot modify header information - headers already sent by (output started at /home/courtrec/public_html/index.php:130)


March 21st, 2017
Ace Attorney 15th Anniversary Livestream coming 4/17
It's been a few months since the last batch of AA game news, but it looks like that'll be changing next month!
NicoNico Douga will be hosting a 15th anniversary livestream for the series
with Takayuki Kondo (Phoenix), Hiro Shimono (Ryuunosuke), producer Eshiro, and director Yamazaki. The group will be revisiting some of the series' history, hold a general talk show about the series, answer fan questions and show off popularity poll results, and finally show off the first in-game footage of
Dai Gyakuten Saiban 2
.
The show will be at 9 PM Japan time on April 17th, which translates to noon UTC, 8 AM ET, and 5 AM PT. We'll see if we can set up a place for everyone to restream and comment as usual.
See you then!
Correction:
This post previously stated KENN was set to appear. He is not - Ryuunosuke's VA Hiro Shimono is.
Reply || Read Comments
By Bolt Storm
March 17th, 2017
Ace Attorney gallery show in Tokyo next month
Gonna be around Tokyo in April? Then swing by Nakano Broadway in Tokyo to check out the pixiv Zingaro exhibition - or more precisely,
the Ace Attorney gallery that will be on display there
!
The gallery will feature artifacts and artwork from all 15 years of the series, as well as limited edition goods to purchase and new commemorative art from Takuro Fuse. Visitors can stop by from April 6th to 25th.
Personally, I think we just found the aesthetic for the next game...
Reply || Read Comments
By Bolt Storm
March 2nd, 2017
Ace Attorney Crossover with Gyakuten Othellonia
It seems that some Ace Attorney characters will be arriving in Othellonia come March 6th as part of a crossover event!
There are 9 AA characters in the event. Their drop rates are said to be double the norm for each of their respective rarities for the A and B rank characters. So far Franziska is one of the bosses that you can battle, and there is a "Colosseum" event, both of which use the GBA versions of the Objection and Cross Examination music from JFA and T&T.
S rank:
- Phoenix
- Godot
- Edgeworth
A Rank:
- Mia
- Ema
- Maya
B Rank:
- Pearl
- Larry
- Gumshoe
Relevant Tweets:
https://twitter.com/othellonia_info/status/837135528004726784
https://twitter.com/othellonia_info/status/837135451924287488
https://twitter.com/othellonia_info/status/837135586032902144
Reply || Read Comments
By SuperAj3
February 25th, 2017
Incoming server move!
A quick heads-up to everyone: this weekend we are moving from our current server to a newer one on the same host.
During this time the forums will be disabled.
There is also a chance of general downtime or other oddities over the next several days while we get everything sorted, though we'll do our best to minimize issues.
C-R has been on the same server for nearly a decade now, so we're long overdue for the change. When all is said and done, you shouldn't see any appreciable difference on the site, but things will be running smoother in the background (knock on wood.)
We'll make another post when things are all done!
UPDATE 2/27/17:
The lion's share of the move should be done now - key word being should. Please let us know if you experience any weirdness! We'll hold off on making the "all clear" post for another day or two.
Reply || Read Comments
By Bolt Storm
February 24th, 2017
The Court-Records Original Character Contest 2016: Winners!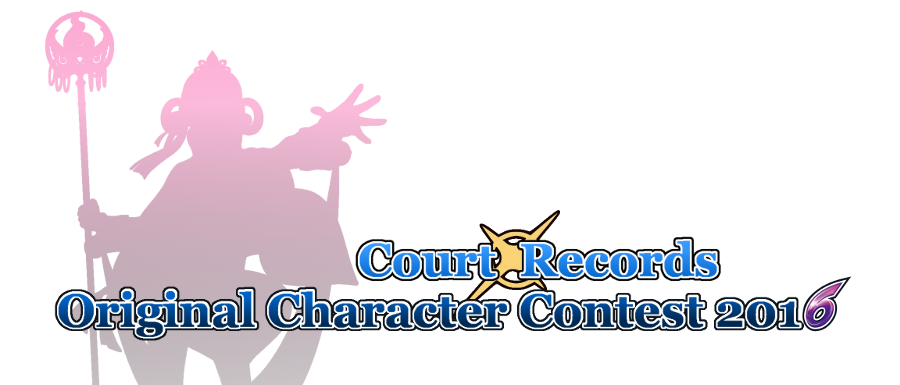 The entries have been pored over, the votes have been cast, and the customary few days of delays on our end have come and gone.
Here are the winners of the Court-Records Original Character Contest 2016!
Many congratulations to the winners! As we do every year, we had some really stellar entries - and I think the punny name game was on a higher level than it ever was before. (Or a lower one, depending on your point of view.) We'll be contacting you via the e-mail you registered for the beta site with - if this isn't accessible to you, please PM me or send us a mail at courtrecord at gmail.
If you missed the entries this year, or if you just want to take another look at our participants' work, you can still browse the
fanart
,
spriting
, and
fanfic
categories at your leisure.
The first place winners this year will recieve the
Ace Attorney: Spirit of Justice artbook
, second-place winners will receive
their choice of the Phoenix and Apollo selection CDs
, and third-place winners will receive
an AA6 3DS card carrying case
. In addition, all winners will receive
an attorney's pin from Fangamer
!
As always, a very special thanks to everyone who entered this year, especially as we made the switch to our new beta site. There were a few bumps along the way, but it helped us iron out some bugs and learn some things about the user experience, which means the final thing will be all the better. And thank you to everyone who took the time to vote!
See you again next- oh, right. Our terrible scheduling. See you again late this year!
Reply || Read Comments
By Bolt Storm
February 19th, 2017
Last call for OC Contest votes!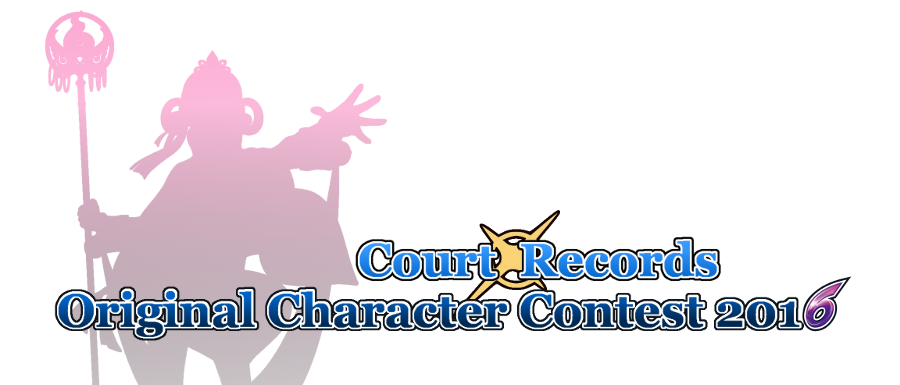 One last reminder:
voting for the Court-Records Original Character Contest 2016 ends tomorrow, February 19th, at 11:59 PM Pacific Time!
Once again, here are the voting links:
Fanart
Sprites
Fanfiction
As always, if you encounter any problems, please let us know in the thread below, by sending a mail to courtrecord [at] gmail [dot] com, or by contacting us on Twitter/Tumblr/Discord.
Thanks to everyone who's already voted!
Reply || Read Comments
By Bolt Storm
February 14th, 2017
Takumi's Thanks Tweets for Valentine's Day gifts
Takumi thanked all the people who sent Valentine presents to the characters and the development team today on Twitter (
starting with his tweet
) Regarding DGS2, the message is simply that he's still working hard on it. Below is a translation of today's tweets (which were tweeted on February 15th JST, by the way).
Quote:
Good evening, everyone. ...It's so late now, "good evening" is really the only thing I can say, but as today is that one special Valentine's Day... oh no, that's yesterday already. Takumi here, who's been busy lately, being chased by days filled with grand turnabouts.

But now some words of thank. We got a lot of thoughtful presents for our Ryunosuke, Kazuma, Mr. Grim Reaper, that one great detective and even us, the development team. We're really grateful! As the creators, we're really happy with them.

By the way, grandson Ryuichi (Phoenix) and that Mr. Red Rival were not forgotten either. And like last year, some of the "advanced" characters like that orange chief of police and your "pal" police detective also got some fancy presents. It's amazing. Nuri and the rest of the team all got really excited about it.

As for the funny story this year, we have "For Juryman 3 of Episode 3". Who? Oooh, the guy with the knife. When you suddenly get hit from an unexpected place, you get a funny sense of pleasure as the creator. Oh, that guy. I see, I see.

Lately, I feel that everything in this world can be categorized into either "pressure" or "everything else". And then there's "good pressure" and "bad pressure"....?But today, I was given a lot of positive pressure that'll serve as great momentum, so it became a great day because of all of you.

Finally, once again my thanks to you. I am reallly grateful for your continued support. I hope that next time, I can tell you that Dai Gyakuten Saiban 2 is finished... Starting tomorow, I'll ride on this positive wave of pressure and concentrate with everything I have on the development. Good night, everyone!
Reply || Read Comments
By Ash
February 5th, 2017
Gyakuten Saiban Series Encyclopedia site
http://kouryaku.dengeki.com/gyakutentaizen/
Dengeki's website for their upcoming "15th Anniversary Gyakuten Saiban Series Encyclopedia 2001-2016" (AKA Gyakuten Taizen 2001 - 2016) has been opened this week. The book was announced at the 15th Anniversary Special Court event, and will contain detailed write-ups on all the cases of all of Capcom's Ace Attorney games*. Each case is explained through a timeline, detailing all the events leading up to, and after the murders, the culprits etc. The book will also contain lists of all the characters and evidence that have appeared in the games. Six interviews with the creators revealing untold tales about the games, one of which with Takumii, are also included in the book.
*Six main titles + Rise from the Ashes, two Ace Attorney Investigations titles and DGS. The website notes that the DLC case of AA6 however will not be included. The website also makes a special note that this book will still keep certain details secret regarding the final episodes of both DGS and AA6.
Cover art can be found on the official Japanese Ace Attorney franchise website:
http://www.capcom.co.jp/game/content/gy ... books/1564
Reply || Read Comments
By Ash
February 5th, 2017
The Court-Records OC Contest 2016: Voting Begins!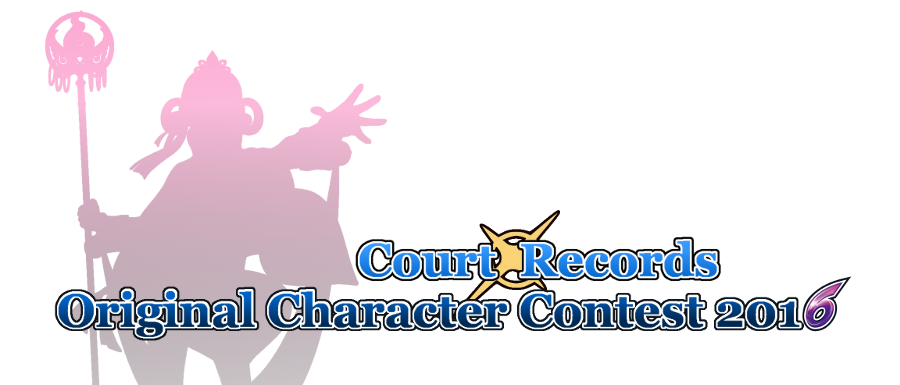 Sorry to keep you waiting! The entries have been tallied, the site has been updated, and it's time to begin:
voting for the Court-Records Original Character Contest 2016 is now open!
As always, there are three categories:
Fanart, for those of us who can draw a straight line
Sprites, for those of us who prefer to create things out of many tiny blocks
Fanfiction, for those of us who remember back in the days when not everything was "live video" or "the youtubes", we used to have text on the internet you young whippersnappers
It goes without saying, but we encourage everyone to vote in each category! Voting will be running for
a bit over two full weeks
- through
February 19th, 2017
.
If you encounter any problems, please let us know in the thread below, by sending a mail to courtrecord [at] gmail [dot] com, or by contacting us on Twitter/Tumblr/Discord.
Best of luck to all the participants, and I hope you all enjoy this year's submissions!
Reply || Read Comments
By Bolt Storm
January 31st, 2017