June 29th, 2016
AA6 DLC episode, "Turnabout Across Time", now available
Been playing the Japanese version of
Spirit of Justice
? Make your way to the bonus contents, because the DLC episode,
Turnabout Across Time
, is now available! The episode takes place after the main game, but it can be played after finishing episode one.
The episode will be free to download until July 20th, and be a paid download thereafter.
Reply || Read Comments
By Bolt Storm
June 24th, 2016
Takumi's Class Trial
As many may know, the infamous class trial that formed such an impact on Phoenix' life was based on something that actually happened to series creator Takumi himself. Today,
he tweeted some more details
about the incident, as it connects to tomorrow's episode of the anime.
Quote:
Everyone, good evening.
Tomorrow's episode of the TV anime Ace Attorney will feature a story with Phoenix, Edgeworth and Larry when they were still in elementary school. Takumi here, who wants to bring out an old story from his own time as a schoolboy.

It happened one day, when I was a second grader. Young Takumi was playing alone in the schoolyard and at the garbage disposal area, he came across a handmade "piggy bank": an empty can with origami stuck on it, just a small object. Not giving it much thought, he took it up in my hands.

"Maybe there's a lot of money inside," he thought and opened it and out of the "piggy bank" came... one coin of 5 yen. Well, he had kinda guessed that because of the sound it made when he picked the thing up. Without giving it much thought, he put the 5 yen coin in his pocket, and yes without giving it much thought again, went home. It happened the following day.

Young Takumi was made to stand in front of a class he didn't know, and while being watched by forty schoolkids he didn't know, a 40-year old teacher who was very angry with him. "Tell the truth!"

The boy had been taken away from his own class, so his head had become all blank. Eventually, young Takumi started to understand he had been accused of being "a heinous 5 yen thief". "You can't go stealing people's money!"

What had probably happened was that someone had taken one of the piggy banks they had made with handicraft classes, and had left it it at the disposal area as a prank. Coincidence led to young Takumi picking up that piggy bank, and someone had witnessed how boy Takumi had pettily stolen the 5 yen.

Something like that had happened, I athered from the information gathered afterwards.... but at the time, I really didn't know what they were talking about. Young Takumi was pushed by the teacher he didn't know, in front of a girl he didn't know: "Apologize to her!"

And at that moment... Objection! ... of course, there was no one in the class who shouted that. Young Takumi, still confused and understanding nothing about what was happening, apologized to the girl again and again. Why I didn't say "It wasn't me!" ? Perhaps because the boy had taken the 5 yen.

And twenty years passed after that event. This charming little story was "promoted" to be included in Turnabout Goodbyes. If back then, Miles Edgeworth had been there...?there might've been a defense attorney Takumi right now, shouting Objection! somewhere in a dingy courtroom.

And another 15 years after writing Turnabout Goodbyes... How I feel about that "incident" has become even more vague now. When I revealed this story at the script meeting as a sort of joke, people really felt for me, and I was quite shaken by that...

Such trifling, slightly bitter memories... For scenario writers, they're like spices they can take and use when they have trouble coming up with ideas. But do that for too long, and you'll run out of ideas anyway. Maybe it's about time to get a new stock of trifling, slightly bitter memories... But anyway...

Tomorrow's episode of Ace Attorney will be about such a memory. It's an original episode, portraying what happened "the lunch money inident" from an angle different from the games. Phoenix, Edgeworth and Larry and the origin of their friendship... you can't miss this. Episode 13: Turnabout Promise... Take that! (? like Phoenix)
Reply || Read Comments
By Ash
June 16th, 2016
Interview w/ Eshiro+Yamazaki: loc. challenges, still no DGS
Gamespot
recently sat down with Eshiro and Yamazaki
to chat about
Spirit of Justice
and localizing the series. While you can get the whole interview at the link, a few highlights:
Quote:
The localizations of the Phoenix Wright games take place in a vague "Japanamerica," and many cases are steeped in Japanese culture. Some of these themes may not translate well for some players. What are the challenges of localizing this series?

Eshiro: First of all, the game is made in Japan, so we make it in Japanese and the staff doesn't think about the localization at all. Once you start thinking about it, then you have to consider so many things, and you start locking yourself into a little space, right? To keep it so that they can make as creative of a product as possible, as creative of a story as possible, we don't think about the localization, we just make it as interesting as we can. When localization happens, I will sit down with [the team] and say, okay, this part should probably be localized because I'm not sure a lot of people outside of Japan would understand it. And he might say, "Well, let's keep it because it's important to the story or this character." Through this back and forth we decide the bigger picture of what to keep and what not to keep Japanese in that sense.

I based some of my decisions on the times. For example, nowadays people [in the West] know what ramen is but 10 years ago people didn't know what ramen was in the same way. I do go through and adjust, fine-tune what needs localizing and what doesn't based on what people know at that time.
Quote:
Will we ever get a localized version of Daigyakuten Saiban?

Eshiro: Unfortunately there's a number of circumstances... We absolutely do want to bring it to the West, but unfortunately due to these circumstances right now... I'm really really sorry! Nowadays on the Internet lots of fans are directly asking us, "Where's Daigyakuten Saiban?" On livestreams, even in the Japanese ones, people from the West will write in and ask where it is. Every time we say, we're sorry! Certain circumstances are kind of getting in the way.
It's good to hear they're aware of the demand for DGS, but unfortunately it doesn't sound like anything's in the works.
Reply || Read Comments
By Bolt Storm
June 15th, 2016
Ace Attorney 6: Sengoku Basara costume DLC, 3DS theme
AA6 has been out for about a week now, and that means it's time for tie-ins! Via
Gamer.ne
:
First off, an Ace Attorney 6 3DS theme is available as of today:
The theme features Khura'in-inspired visuals and the main characters of the game.
Next up - and certainly more amusingly - is Sengoku Basara-inspired costumes for the WAA trio! References to this were found in the game data by TCRF and others, but this is our first good look at:
Phoenix as Date Masamune
Apollo as Sanada Yukimura
Athena as Tokugawa Ieyasu
These costumes will be released on June 23rd for 143 yen (excluding tax.)
Reply || Read Comments
By Bolt Storm
June 15th, 2016
June 14th, 2016
June 13th, 2016
Come watch E3 with us
This is a bit out of the ordinary, but oh well. E3 week is like that!
If you're looking for somewhere to chat E3 that's a little less hectic than a Twitch or YouTube chat, we'll be mirroring the streams for the big conferences (Sony, Microsoft, Nintendo's initial Zelda stream) over on Cytube (
http://cytube.court-records.net/r/cr/
). We may throw on some other E3-related streams as well over the next day or two!
Is this related to Ace Attorney? No, basically not. But it is a fun way to spend a few hours with other community members!
A timetable for E3 events can be found
here (credit Cheesemeister3k)
. The first major conference, Microsoft, is in about 13 hours from the time of this post.
Reply || Read Comments
By Bolt Storm
June 7th, 2016
Ace Attorney: Spirit of Justice Launches in Japan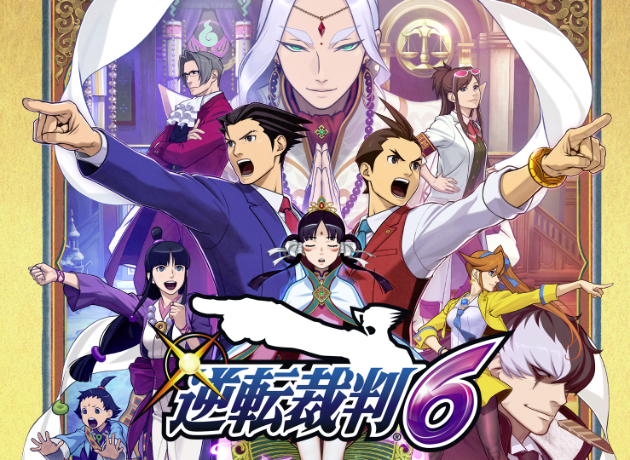 Three years ago, the - if not impossible, at least seemingly pretty improbable for a while there - happened: the mainline Ace Attorney series returned.
Ace Attorney: Dual Destinies
was the series' first attempt at moving forward in six years, bringing together Phoenix, Apollo, and newcomer Athena in a new story and on a new platform. But not everyone made it along for the ride. Didn't there used to be a spirit medium out there?, a few of us asked. Or a snackoo-loving detective?
Today, their stories - and the rest of the crew's - continue at last, after a brief detour into Victorian London.
Phoenix Wright: Ace Attorney - Spirit of Justice
- or more simply,
Gyakuten Saiban 6
- releases in Japan just under twelve hours from the time of this post. The Wright Anything Agency trio returns as the stage splits between the mystical kingdom of Khura'in and the somewhat-more-ordinary courts of Japanifornia. Joining them are a bevy of familiar and unfamiliar faces - Maya Fey and Ema Skye return to support our heroes, while newcomers Rayfa Padma Khura'in and Nayuta Sadmadhi stand in their way.
As always, the Court-Records forums are open for chatting anything and everything AA6 - with spoilers clearly marked, so those of us who have to wait for the English release can tread safely. The traditional
"I just want to know one thing..." Q&A thread
is open, as are general discussion threads for each case - and of course, anything else goes as well. Who knows? You might even find a spot to talk about the more musical portions of the game.
But regardless, dust off your attorney's badges and grab your magatamas, folks. Court is back in session.
Reply || Read Comments
By Bolt Storm
June 4th, 2016
June 1st, 2016
Announcing the Court-Records 3.0 Beta!
Court-Records has been running in its current form - or something close to it - for nearly eight years now, and that means we're well overdue for a change-up! So it's with great pleasure and only slight amounts of panic that we announce an open beta for the next version of Court-Records!
Before you all go flying onto it, I want to emphasize the
beta
nature of the site. You'll find some pages are totally unstyled, content is missing just about everywhere, and probably a few bugs. The purpose of opening it now is both to let folks get a look at what we've been working at and to get feedback on what still needs work.
To that end, here's some of the things you should give a try:
First of all, log in! You should still be able to log in with your old account, but now it can be used for fanwork uploading as well as forum usage.
Add fanfiction, fanart, or remixes to the fanworks pages! It should go without saying, but please only upload works you've created.
Give the forums a test drive! That said, be warned that these are temporary forums and the posts there will be archived or deleted once we move into the final version of the site. For serious discussion (such as post-release AA6 talk) stick to the current forums.
Try to break things! If you try to use part of the site and it doesn't work or flat-out spits up an error, let us know in the bug thread here.
Let us know if there's any big features or sections you feel are missing! Again, we're well aware the content needs to be added (why do you think we've been calling for copywriters?) but if you've got an idea for something AA-related the site could do that isn't covered, sound off in the suggestion thread here!
Let us know what you like and don't like! Again, several parts of the site are still work-in-progress - for example, the character index page - but if something really catches your eye for better or for worse, tell us in the general feedback thread!
Again, this is an open beta, and until work on the new site is completed, we'll be sticking to posting news and updating the current site. So if you want to go chat AA6 next week, you're better off on the original forums! But nonetheless, we hope everyone enjoys poking around the new site and giving feedback.
Thanks for your time, and here's to many more years of the site!
Reply || Read Comments
By Bolt Storm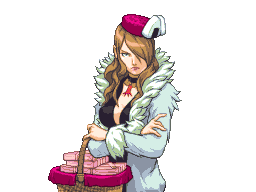 April 2nd, 2016 onwards - Global

Ace Attorney anime

June 9th, 2016 - JP

Ace Attorney 6

July 15th - 24th, 2016 - JP

Ace Attorney Investigations: Turnabout Teleportation stage play

2016 - Global

Ace Attorney 6