[phpBB Debug] PHP Warning: in file [ROOT]/includes/session.php on line 1045: Cannot modify header information - headers already sent by (output started at /home/courtrec/public_html/index.php:129)
[phpBB Debug] PHP Warning: in file [ROOT]/includes/session.php on line 1045: Cannot modify header information - headers already sent by (output started at /home/courtrec/public_html/index.php:129)
[phpBB Debug] PHP Warning: in file [ROOT]/includes/session.php on line 1045: Cannot modify header information - headers already sent by (output started at /home/courtrec/public_html/index.php:129)


June 6th, 2019
Ace Attorney Orchestra Concert 2019 CD announced, 7/24
because what else could get me to post news again than new AA music
After skipping a release for the 2018 concert, Capcom's announced
a CD release of the Ace Attorney orchestra concert
that ran earlier this year! In addition to including the orchestra tracks, it will include a recording of one special track where Ryuunosuke's voice actor Hiro Shimono acted out a certain DGS2 scene in time with the music.
While there isn't an official tracklist yet,
a 4Gamer report on the concert
listed the following tracks:
Ace Attorney 1-3 Suite
Ace Attorney Investigations Reasoning and Pursuit Suite
Apollo Justice ~ A New Chapter of Trials!
Ace Attorney 1-6 Beautiful Suite (Maya, Pearl, Trucy, Athena, Dahlia, and Rayfa's themes)
Villains' Suite (villains' themes from 1-5, 2-4, 3-2, 3-3)
Great Ace Attorney Suite, Continued 2019 (main character themes, incl. DGS2 songs)
[DGS2 spoiler track performed with Shimono]
Ace Attorney Revolution and Inheritance Suite (AA5/AA6 music, Apollo, Dhurke, Nahyuta's themes)
Ace Attorney 3 ~ Ending
Miles Edgeworth ~ Great Revival
Steel Samurai's Theme
Additionally, the evening performance had an alternate DGS suite and an AA4 suite instead of the AA1-3 suite.
Since we couldn't hear last year's performance, it's good to know we'll at least get this year's!
Reply || Read Comments
By Bolt Storm
June 4th, 2019
Watch E3 2019 With Court Records
Although not strictly Ace Attorney related, at around this time of year a bunch of AA fans gather together to watch companies that aren't Capcom showcase their latest offerings, all while asking each other where all the lawyers are.
That's right, it's E3 time, and as always Court Records will be hosting live viewings of each of the major conferences. While we don't normally expect AA news at any of these except maybe Nintendo's, it's always a fun time chatting about the more general state of the gaming world with like-minded people, so please make sure to join us there.
Here's a list of timings for each of the E3 showings, but also make sure to follow us on
twitter
to see when we're going live. As always, the streams will be hosted on our
cytube
page.
Reply || Read Comments
By Toatali
May 19th, 2019
May 19th, 2019
April 9th, 2019
Ace Attorney Trilogy HD Available Worldwide
The new version of the Ace Attorney Trilogy is now available worldwide on consoles after its Japanese release, and for the first time on Steam. There's a new trailer for the game
here
, which confirms additional languages coming to the game in August.
You can buy the game on
Switch
,
PS4
,
Xbox One
and
Steam
.
Reply || Read Comments
By Toatali
March 30th, 2019
DGS Fan Translation Released on 3DS
The ever hard-working Scarlet Study fan translation team have announced that all five episodes of their fan translation of The Great Ace Attorney (Dai Gyakuten Saiban) are now available on 3DS! You can watch a trailer for the release
here
, and find out more details about the patch and how to download it
on their website.
They've also announced that work has started on translating the second game, and that the release of the finalised first game on Android isn't quite ready yet.
This is an amazing effort by an amazing team of translators and programmers, and as Ace Attorney fans who are occasionally ignored by Capcom, it's fantastic to see such dedicated and talented fans work on bringing the series to its fans outside Japan. A big thank you from everyone at Court Records goes out to them.
UPDATE: The game is now available on Android, and a demo for DGS2 has been translated for 3DS. You can find out more
here.
Reply || Read Comments
By Toatali
February 28th, 2019
Ace Attorney Trilogy Western Release Date Revealed
The Western release date for the HD remaster of the Ace Attorney Trilogy has been revealed as April 9th by Capcom. The game will be digital only in the West, and will release with English and Japanese language support, with French and German to be added in a post-launch update. April 9th will also be the first time the game will release on Steam, and it's probably the delay in this version of the game that is causing a slight delay in the game's Western release. PS4 and Steam versions of the game come with a pre-order bonus wallpaper.
You can read more about the game's Western release from Capcom
here
.
Reply || Read Comments
By Toatali
February 20th, 2019
Ace Attorney Trilogy HD released in Japan
Well, the time has finally come - an Ace Attorney game has been released on the new generation of consoles. Of course, the excitement of this occasion is dampened slightly for fans of the series, as this is the port of a trilogy that's already received five (or more, it's a lot to keep track of) ports and is playable on everything from your phone to your 3DS. But this at least looks to be the cleanest, most extensive port yet, and its availability on most modern platforms means that the reach of the trilogy now extends further than ever.
The PS4, Xbox One and Nintendo Switch versions of this game launch today in Japan, with the Steam version to follow at a later date. An English release has been announced to come out sometime later this year (last minute update: the release date for the English language version will be announced next week), but if you can't wait, the game does have English language support.
It may not be the new Ace Attorney game we were all clamouring for, but hopefully it'll be a way to get new fans into the series, and a way for old fans to revisit the original trilogy.
Reply || Read Comments
By Toatali
February 12th, 2019
Nintendo Direct 13/02, plus AA news round-up
A new Nintendo Direct has been announced for air tomorrow, and as always Court Records will be hosting a stream of the Direct at
http://cytube.court-records.net/r/CR
. Although Ace Attorney news is unlikely, we may possibly see a release date announcement for the HD Trilogy in the West.
The Direct airs at 2pm PT, 5pm ET, 10pm GMT and 11pm CET.
In addition, if you don't follow our
twitter
, you might have missed some smaller items of Ace Attorney related news, including the fact that the soundtracks for most of the games have been recently released on Spotify. You can find them by searching for 'Capcom Sound Team'.
In order to promote the AA Trilogy remaster, Capcom has also released a remaster of an old Ace Attorney Investigations karaoke video, which features the Steel Samurai theme song with lyrics. You can find that
here
.
Hope to see some of you on the Direct stream tomorrow!
Reply || Read Comments
By Toatali
November 17th, 2018
First4Figures Phoenix Wright finally revealed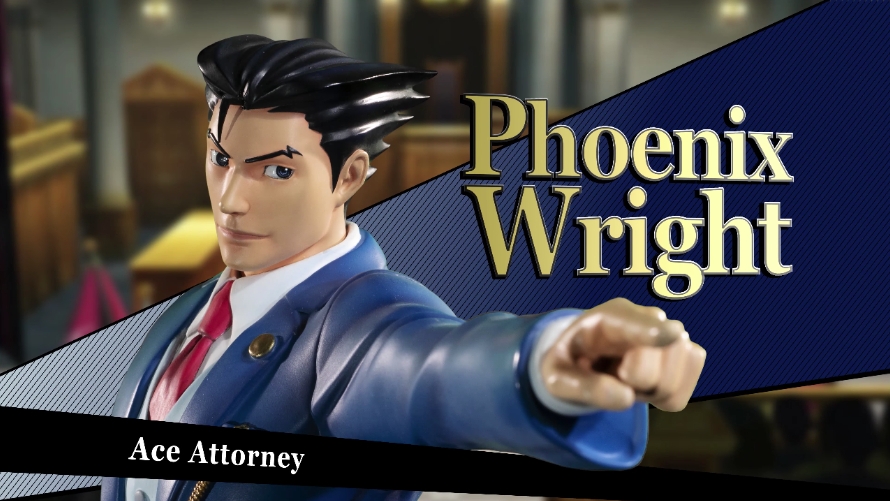 After first being teased way back in 2014, First 4 Figures has finally unveiled its Phoenix Wright statue, which opens for pre-orders on Friday 23rd November. You can find out how to pre-order the figure and watch a short video on F4F's website
here
(but be warned, they're usually on the pricey side). Even if you don't preorder, I think it's a promising sign that we're finally seeing some AA merch widely available outside Japan.
Reply || Read Comments
By Toatali