January 20th, 2017
The Ace Attorney 15th Anniversary Event is this weekend!
It's been a while since we've had any major Ace Attorney news, so why don't we change that?
This weekend marks the Ace Attorney 15th Anniversary event in Japan! On January 22nd, a slew of AA cast and crew, including directors Takumi and Yamazaki, producer Eshiro, much of the voice cast, and composer Iwadare and his Justice Super Band will be putting on a show at Urayasu's Maihama Amphitheater, with one show in the afternoon at 13:30 JST and one in the evening at 18:00 JST. For those of us not in Japan, that means the first show starts at 8:30 PM PT/11:30 PM ET/5:30 AM CET on the 21st/22nd, respectively.
Ordinarily this would be where we plugged a livestream viewing, but... this isn't a livestreamed event! This isn't too surprising given the need to purchase tickets to attend, but it does mean we'll be largely in the dark on the status of the show unless an attendee whips out Twitter. And it's likely a good chunk of what goes on there (voice cast comments, performances, etc.) won't really make the same impact in tweets or post-performance reports by Famitsu.
But all that said - if nothing else, we can probably expect a good amount of AA news to come out of the event! Five years ago, the 10th anniversary celebration was where they showed off more of Professor Layton vs. Phoenix Wright, as well as where they announced Dual Destinies for the first time. While we probably shouldn't expect Ace Attorney 7 to be announced (they've still barely started to promote DGS2!) it's likely we'll get more info on DGS2, other non-game Ace Attorney stuff (new musicals, films, plays, concerts, animes, etc.), and maybe a tease for the future of the series.
In any event, prolific Japanese AA blogger
@hoso_boso
will be attending, and it's likely that Famitsu and other gaming news sites will be posting reports about the event. And if there are major announcements, the official Japanese AA channels will likely post them as well. We'll keep you all posted with news as it comes!
[
The Court-Records Original Character Contest is taking entries until the 29th!
]
Reply || Read Comments
By Bolt Storm
January 14th, 2017
Original Character Contest 2016: Deadline Extension!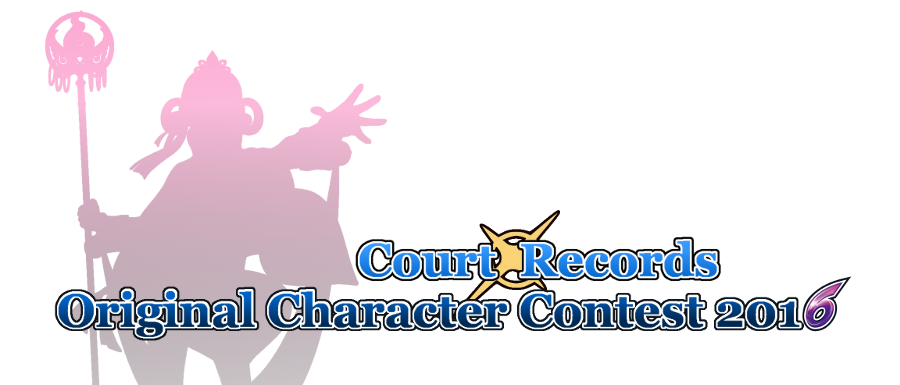 Apologies for pulling this out at the last minute - but then again, if you've been following us for a few years, this may not be a huge surprise!
We recently ran a poll
and found that a lot of people had interest in the OC Contest but didn't have the time/weren't fully aware of what it was, so we're extending the deadline
by two weeks, to 11:59 PM PST, January 29th, 2017
. This way, more people can enter! If you have already entered, feel free to revise your entry.
Finally, we've gotten a few reports of bugs while submitting here and there - please report any trouble you run into! (Such is the nature of the beta.)
Once again, the contest page is this way
for all the details. The short version? Come up with an original Ace Attorney character and depict them in a story, piece of art, or sprites, and you could win some solid Ace Attorney swag (and eternal glory, as long as you have a very loose definition of eternal.)
Best of luck!
Reply || Read Comments
By Bolt Storm
January 12th, 2017
January 1st, 2017
A Happy New Year
January 1st is actually over by this point in a good chunk of the world, but oh well!
2017 looks to be an interesting one for Ace Attorney; in just three weeks we've got the 15th Anniversary Special Court event, Dai Gyakuten Saiban 2 is on the horizon, and series producer Eshiro has dropped plenty of hints that there's more AA stuff coming in the pipeline. Oh, and there's a new Nintendo console/handheld coming out; who knows if Phoenix and friends will be making the jump to HD soon?
On the home front, C-R's
long overdue redesign is still cooking
, so head on over and try to break things - and
there's still two weeks (until January 15th) to enter the "2016" Original Character Contest
!
This might not be as fancy a post as we had last year, but the sentiment remains - a happy new year to all our members and visitors, and as always our thanks for stopping by and talking shop on Ace Attorney. Here's to a good, non-objectionable year!
Reply || Read Comments
By Bolt Storm
December 31st, 2016
[RELEASE] [DEMO] The Great Ace Attorney
Happy New Year, fellow Ace Attorney fans!
We'd like to kick off the new year by releasing a taste of what's to come with the translated Demo of The Great Ace Attorney - The Adventure of Ryuunosuke Naruhodou. We're sorry we couldn't finish Episode 1 in time for New Year's, but please enjoy this until it's ready. Let us know what you think.
This free fan-translation uses the dialogue font of Dual Destinies, so you will need to own a version of it in order to play our patch. Team If would like to remind you that we DO NOT support piracy - so please, please don't share a completed CIA with other people. We know the patcher is not very user-friendly yet, at the time of the release it was less then one day old. It will be much better in time for our Episode 1 release.
Fellow fan-translators: we would absolutely love to see The Great Ace Attorney translated into many, many more languages, so fans all around the world can enjoy it. We're working on a program to take in "representatives" of other groups to work closely with our translators, so you can get all the nuances right in your native language. We're currently not sure when we can start with this program, because it shouldn't interfere with our releases of the English Episodes, so please be patient and don't just steal our work.
Regarding voice-acting: we're not sure what we're going to do here, to be honest. We may offer an alternative patch with voice-acting in the future, but no promises yet. We'll see.
It's no secret among Ace Attorney fans that our decision not to localize character names and re-locating the story to the US is controversial. We hope you will understand our decision (which was unanimous among our translators), after you've played Episode one. We still tried to keep the typical "Ace Attorney feel" and we do try to localize jokes and references so they work in English, but the nature of the Game - in our humble opinion - makes white-washing the main cast impossible. Yes, we're aware of a completed translation script that does exactly that. As a team, we disgree with the direction it went, we believe the "liberties" it took to fit the Game into previous localisations were way to drastic, even for Ace Attorney standards. The resulting change of atmosphere and even character's personalities were simply too much for us to accept. You can form your own opinion on this matter by playing our take on the translation before condemning it.
Remember - we're fans, too!
-- Team If - DGS Division
Install notes:
Spoiler: Install instructions - PLEASE READ THESE
Last, but not least: we are still looking for a skilled reverse engineer (knowledge of ARM ASM and the 3DS in particular would be great) to help us figure out some of the remaining mysteries of the game. Other helping hands for inserting and proof-reading text can apply as well, but please note that we do not take testers.
Spoiler: FAQs - PLEASE READ FIRST BEFORE POSTING
Patch:
https://mega.nz/#!OM9BEayR!NFcBpu9qTo9C ... mafSzYWgUY
Font Dumper:
https://mega.nz/#!LBcUiSbR!Bcyfr-w9yXdS ... Li79McxkBM
PS: Yes, "People", not "Profiles"...
PPS: Yes, "Post Mortem" - it's not a complete autopsy and the Japanese word was different, too...
Reply || Read Comments
By Uwabami
December 21st, 2016
AA 15th anniversary OST bonus tracks revealed
You might remember that a little while back,
commemorative CDs
for Phoenix and Apollo were announced, to be released in January. At the time they listed two unknown bonus tracks, but today they have been revealed: "Phoenix Wright ~ Objection! 15th Celebration", a piano mix, and "A New Trial is in Session!" a vocal version of Apollo's theme.
Yes, you heard that right.
(And here's
Phoenix's mix for good measure.
)
As a reminder,
the CDs are up for grabs in our 2016 OC Contest
, and here's the full tracklists:
Spoiler: Phoenix CD tracklist
Spoiler: Apollo CD tracklist
Reply || Read Comments
By Bolt Storm
December 17th, 2016
New novel: Turnabout Airport
Via
Hosoboso
:
Tsutaya
has an entry for an upcoming novel, titled
Gyakuten Saiban - Gyakuten no Airport (Tentative)
(Ace Attorney - Turnabout Airport). The book will be released in February.
This book appears to be a sequel to last summer's
Turnabout Idol
. That novel was released in Kadokawa's Tsubasa Bunko line, a line for children's fiction. The author for both books is Mie Takase, who basides writing mystery and light novels, has also written several novelizations of games like Kirby and Fire Emblem.
I love Turnabout Idol by the way
, and I was already hoping this would become a series, so yay!
(Turnabout Airport is not to be confused with
Turnabout of the Time Traveler
, another original story based on Ace Attorney, which will start serialization in Hayakawa's Mystery Magazine starting with the March issue (on sale late January))
Reply || Read Comments
By Ash
December 15th, 2016
Ace Attorney 15th Anniversary Artworks Revealed
While things have been pretty quiet on the news front, we are still technically in the middle of AA's 15th anniversary celebrations - and to, well, celebrate, Capcom has released
four new pieces of art
commemorating the series!
In tags to save space:
Spoiler: Ace Attorney 1, 2, 3 by Tatsurou Iwamoto
Spoiler: Ace Attorney 4, 5, 6 by Takuro Fuse
Spoiler: Ace Attorney Investigations by Tatsurou Iwamoto
Spoiler: Dai Gyakuten Saiban by Kazuya Nuri
[
The Court-Records Original Character Contest 2016 is here!
]
Reply || Read Comments
By Bolt Storm
December 6th, 2016
Apollo Justice: Ace Attorney now available on Android
Well, it's not particularly clear if this was on purpose for the English release (which was slated for Thursday last we heard), but
Apollo Justice: Ace Attorney is now available on Google Play
worldwide!
Interestingly, this version of the game is USD $15.99 up front from the get-go for the whole game, unlike the iOS version which was USD $0.99 for the first half of case 1 and had the rest of the game a la carte.
[
The Court-Records Original Character Contest 2016 is here!
]
Reply || Read Comments
By Bolt Storm
December 3rd, 2016
Ult. Marvel vs. Capcom 3 coming to PS4/XO/PC; new MvC too
This isn't 100% whole-wheat organic-fed Ace Attorney news, but it is news of a sort: Capcom today announced that
Ultimate Marvel vs. Capcom 3
, which features a certain spiky-haired lawyer as a playable fighter,
will be coming to PS4 today, and to the Xbox One and PC in March 2017
. The game was previously de-listed from digital storefronts due to rights issues.
In addition, a new entry in the series,
Marvel vs. Capcom Infinite
, was announced for a 2017 release. While there's no sign of any
Ace Attorney
representation yet, we'll keep our eyes peeled!
[
The Court-Records Original Character Contest 2016 is here!
]
Reply || Read Comments
By Bolt Storm