April 28th, 2016
[UPDATE] Ace Attorney 6 stream on NicoNico tonight (4/28)
Another NicoNico Chou Kaigi expo in Japan, another Ace Attorney stage show!
Tonight an hour-long stage show for AA6 will be streamed on NicoNico, offering new info and gameplay footage for the game, as well as featuring producer Eshiro, director Yamazaki, and Apollo's Japanese voice actor, KENN!
The stream begins about eight hours from this post - that is, at 7:30 PM Pacific, 10:30 PM Eastern, 2:30 AM GMT, and 11:30 AM JST.
We're currently planning to live-tweet the show, and are determining if we'll be able to restream on Cytube/Hitbox. For now though, useful links:
NicoNico stream:
http://live.nicovideo.jp/watch/lv260137825
Cytube stream:
http://cytube.court-records.net/r/cr/
Hitbox (Cytube backup) stream:
http://www.hitbox.tv/courtrecords
Note that if you want to watch the stream but won't be around for it, you can "timeshift" it on NicoNico (save it for later viewing) by clicking the yellow button in the stream description.
See you all tonight!
UPDATE:
Unfortunately, there's not much to update about! The stage show was largely a replay of known info, albeit with some new gameplay footage sprinkled in. About the only solidly new fact we got was that Nayuta will prosecute in Kurain as well as Japanifornia.
Speaking of footage, though, L~A was kind enough to record and upload it:
L~A wrote:
Pretty sure you can't timeshift AFTER the livestream as free member (or maybe they changed it since I registered and got premium). As for quality.... that's NicoNico for ya, ha ha.
Anyway, I recorded all the relevant bits (except the Case Maker bit):
Case 1 footage:
https://youtu.be/EnTvuuoFRQM
Apollo vs Saadmadhi (live dubbed), Case 2 investigation + fingerprint analysis (also live-dubbed) + DLC short stories and costumes showcase:
https://youtu.be/F9cQvU5Js0Y
TV Commercial #4:
https://youtu.be/njIMaSct9sQ
About the commercial, they said it would air this Saturday with the anime, so we'll have a clear version on Monday, as usual.
While there are no major spoilers, these do show about the first ten minutes of the first case, plus some of case two and Apollo's preorder ep.
Reply || Read Comments
By Bolt Storm
April 26th, 2016
The official Gyakuten Saiban scene-maker returns...?
Well, here's a blast from the past!
Several years ago, Capcom released a... let's call it an Ace Attorney scene-maker, since you certainly can't make full cases with it, as part of their (now-defunct) Daletto service. The program lets you create court scenes using a selection of the original trilogy characters and sprites, with music, SFX, camera work, and the like. What it
can't
do is pretty much anything beyond basic scenes - no cross-examination, for instance.
Why bring it up now? Capcom has relaunched the app as part of a promotion for AA6. If you live in Japan, you can create a scene with the app and enter it for the chance to win
a unique AA6 watch
! There are three categories: AA6-related entries, entries focused on Phoenix+Edgeworth+Larry, and free-for-all, but people are free to enter as many as they like.
In other AA6 news, don't forget that the game will be shown off at Nico Nico Chou Kaigi this Thursday (if you're in the US)/Friday (if you're further east/west). We'll make a post with details about the stream once we get closer!
Reply || Read Comments
By Bolt Storm
April 17th, 2016
Server issues, 4/16/16
If you've been following the Twitter (and/or attempted to access the site today) you know that there were some server issues taking the site on and off-line throughout the day.
While we think we've resolved the issue, we'll need a few days to confirm everything's running stable again.
Sorry for the trouble!
Update:
We'll be going offline for some maintenance and upgrades at 4 AM Eastern, April 21st.
Reply || Read Comments
By Bolt Storm
April 14th, 2016
AA6 at NicoNico Chou Kaigi, drama CD cast announced
Seems like a series tradition at this point: Ace Attorney 6
will be shown at NicoNico Chou Kaigi
, a Japanese gaming convention. AA6's special stage show, which will have "the latest info" and "as-yet-unseen footage", will take place at 11:30 JST on April 29th. The special guest will be Apollo's Japanese voice actor, KENN.
In addition, the cast for the LE-exclusive drama CDs
has been announced
:
Kurain Edition: Turnabout Exorcism?
Phoenix Wright: Takayuki Kondou
Maya Fey: Satomi Hanamura
Leifa Padma Kurain: Saori Hayami
Nayuta Sadmadhi: Daisuke Namikawa
Zen Kakku (original to the drama): Unshou Ichizuka
Tsuyani Arahal (original to the drama): Tomokazu Seki
Japan Edition: Teach Us, Mr. Edgeworth!
Apollo Justice: KENN
Athena Cykes: Megumi Han
Phoenix Wright: Takayuki Kondou
Miles Edgeworth: Eiji Takemoto
Rui Motoda (original to the drama, name is kanji only so that may be a wrong romanization): Nobuyuki Hiyama
Shiori Motoda (original to the drama, name is kanji only so that may be a wrong romanization): Sora Amamiya
Reply || Read Comments
By Bolt Storm
April 6th, 2016
AA6 in Famitsu 4/6 - Full Scans, official site up
Update:
Official site has updated as well.
http://www.capcom.co.jp/gyakutensaiban/6/
Another week, another set of scans...
Translations incoming.
Episode two kicks off during a rehearsal for one of Trucy's shows, "Trucy in Gramaryeland". During the rehearsal, things take a turn for the worst when the body of one of her co-performers, "Mr. Menyo", appears mid-way through - and moments later, part of the stage collapses! Trucy's arrested and held responsible for the accidents, and Apollo leaps into action to save her.
In terms of new characters, there's famous producer Kanenari Shinoyama (self-styled as "Jack Yamashino") of Nidomi Terebi (Look Twice TV), who's putting on the special broadcast Trucy's magic show is part of, as well as Mimi Nanano, Trucy's assistant. Mimi is the "rabbit girl" we've all seen before, and she seems to be hiding something that requires Apollo to use his Perceive ability on her (in investigation.)
And then there's Ema! Having finally achieved her dream of becoming a forensic scientist, Ema seems quite a bit happier now, though she still warns in one screenshot that Apollo'd better not touch anything if he doesn't want to see her angry. With Ema comes the return of forensic investigations: the two shown here are fingerprint searching (now combined with 3D evidence examination) and the ability to compare multi-angle videos of the crime scene to look for contradictions.
A few other small tidbits include the return of the investigation memo, and some preview shots of the game's anime cutscenes.
Expect the official AA6 site to update tonight, but if you want to see some of this in action, check out
last night's Capcom TV
!
Reply || Read Comments
By Bolt Storm
April 5th, 2016
AA6 on Capcom TV 4/6
Well, we've seen Trucy and Ema in magazine previews and scans, but how about seeing them in-game?
Capcom TV will likely have us covered tonight
, as AA6 comes to the program for an update with producer Eshiro. While the contents aren't officially announced yet, it would be surprising (and disappointing) if there wasn't any new footage.
Tune in on CyTube
, or watch directly on
YouTube
. Do note that due to timezones, we're not yet sure if we'll be able to provide live translation or updates.
The program begins at 20:00 JST, which is 11 AM UTC/GMT, 7 AM EST, and 4 AM PST.
You can check a countdown over here.
Reply || Read Comments
By Bolt Storm
April 5th, 2016
Trucy and Ema are back in GS6! Famitsu article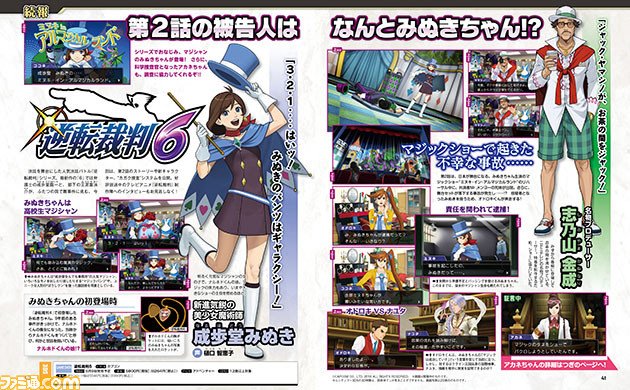 So Trucy and Ema are BOTH back in GS6! (Yes, this is indeed real!)
Along with them is a new character whose name is possibly " Kanenari SHINOYAMA" (Thanks Ash!). And seems to be a producer related to the case that occurs during one of Trucy's performances.
It's also confirmed this case shown is Case 2!
Link to the announcement Famitsu:
https://t.co/R10aS6aQGR
UPDATE: Ema and Trucy's VA's have also been shared! (Thanks L~A!)
Trucy Wright (voiced by Chieko Higuchi)
Ema Skye (voiced by Marina Inoue)
Source
Update 2: First scan of Ema:
Ema has finally achieved her dream of working in forensics!
About the case: an unfortunate (seemingly fatal) 'accident' occurs during one of Trucy's shows, resulting in her being arrested and held responsible.
Update 3:
WarChild wrote:
More scans:
The video comparison mechanic
Perceive is returning. Mimi full profile.
Reply || Read Comments
By SuperAj3
April 4th, 2016
Ace Attorney 6: two new TV spots, multi-witness testimony
This week's episode of the Ace Attorney anime brought with it two new brief AA6 commercials:
Just Like Old Times Edition
Preorder Episode Edition
While both have some nice animation of Phoenix and Edgeworth in court, maybe the most interesting thing comes at the end of the preorder episode video:
It looks like AA6 will see the return of multi-witness testimonies! This was hinted at with a few of the bits of footage we'd seen before, but this is the first official confirmation. It remains to be seen if this is a one-off thing for the preorder ep, and if it'll expand to 3+ witnesses and feature PLvsPW/DGS' "questioning"/"Hang on!" system, but in any event, a little more dynanism in the court is always welcome!
New AA6 info is scheduled to be shown on this Wednesday's Capcom TV, which means we'll likely get news tomorrow night from Famitsu. We'll keep you posted!
Reply || Read Comments
By Bolt Storm
April 2nd, 2016
The Ace Attorney anime is on air!
The fans asked, and asked, and asked some more, and now the day is finally here:
the Ace Attorney anime adaptation, Gyakuten Saiban: Sono Shinjitsu, Igiari! starts airing today, April 2nd!
In advance of the show getting on the road, here's all you need to know about the series!
WHAT IS IT?
The anime is an adaptation of the first two games in the series,
Ace Attorney
and
Justice for All
, and as such shows Phoenix's early days an attorney, as well as a bevy of other familiar faces. While the anime will primarily be a straight adaptation, Takumi has commented that there will be original or expanded elements, particularly pertaining to Nick's past that they couldn't show in the game itself.
WHO'S MAKING IT?
The anime is being produced by A-1 Pictures (
Fairy Tail
,
Sword Art Online II
), directed by Ayumu Watanabe and with music by Kaoru Wada. The main cast includes
Yuuki Kaji
as Phoenix,
Masashi Tamaki
as Miles Edgeworth,
Aoi Yuuki
as Maya Fey,
Chie Nakamura
as Mia Fey,
Masami Iwasaki
as Dick Gumshoe, and
Tooru Nada
as Larry Butz. Voice actors for Franziska and Pearl have yet to be announced.
In addition, series creator Shu Takumi serves as advisor to the scripts.
WHEN AND WHERE CAN I WATCH?
If you're outside Japan
, Crunchyroll will be officially streaming/subbing and near-simulcasting the series!
You can check their page for the series here
. Episodes will be made available immediately to premium members; free users will be able to view them a week after the original air date.
If you're in Japan
, the show airs at 5:30 PM JST, Saturdays on YTV. Check your local listings for details!
ANYTHING ELSE I SHOULD KNOW?
Sure! First off,
we have a dedicated subforum for the anime
where folks can pick apart the latest episodes and chat about the series in general. Once an episode has aired, stop by to chat things over with fellow AA fans.
If you're watching through Crunchyroll, do note that as these are subs, Crunchyroll is opting to use the Japanese names for the characters/places by default.
C-R member Rubia has put together a detailed list of Japanese<->English names if you need a refresher
!
Update:
the English names are also available in the alternate English subtitle track.
If you're watching live in Japan, keep your eyes peeled during commercial breaks; special commercials for Ace Attorney 6 will be airing throughout the season.
Speaking of the season - Takumi recently stated that the anime will run for about half a year, which sounds like it will be 2 cours, or 26 episodes.
GET ON WITH IT ALREADY!
Sure thing.
In about five and a half hours from this post, you'll be able to watch episode one, "The First Turnabout", right here on Crunchyroll
.
We'll keep you all updated with previews and summaries for future weeks as the season progresses. Have fun, everyone!
Reply || Read Comments
By Bolt Storm
April 1st, 2016
Ace Attorney anime to air on Crunchyroll
No joking here - the Ace Attorney anime
has been officially picked up by Crunchyroll
and will be available to watch outside of Asia there!
The show will air at 4 AM PST on Saturdays, starting
tomorrow, April 2nd
.
We'll have a master post about the anime going up later tonight!
Reply || Read Comments
By Bolt Storm